Crystal and Stone Pendulums
We have  many beautiful Crystal & Stone Pendulums 
FREE SHIPPING!
Our pendulum prices include shipping within the US.  International shipments are $3 more for shipping.
Rose Quartz Chamber with Copper Ring  

Bearing-Balanced Amethyst with Witness Chamber

Example of  Witness Chamber

Bearing Balanced Fluorite with Witness Chamber

Bearing Balanced Labradorite Pendulum with Witness Chamber
Tapered Himalayan Crystal Point With Chamber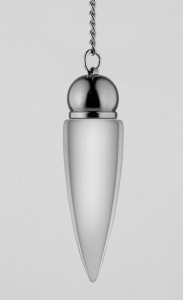 $26   Add to Cart


View of Pendulum with Open Witness Chamber
Some dowsers put a sample of what they're looking for or working with in the chamber.

More Chamber or Witness Pendulums Below.  
Amethyst Chamber Pendulum With Copper Ring & Chain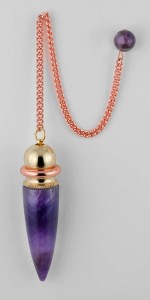 $30    Add to Cart
Uncut Himalayan Crystal Point  with Chamber            
$30   Add to Cart


Click here to see our metal pendulums.

Letter to Robin
A Mini-Course in Pendulum Dowsing Volume 1
Now Available in our volumes.  Add more volumes after adding Volume 1 to the cart.  Each additional volume will be $5.  We may have to contact you about additional shipping cost for multiple volumes.
"This is the best series of booklets I've found on pendulum dowsing. "
Only $7.50, including shipping within the U.S. 
Available in Spanish.  Request in Special Instructions during check-out.
   $7.50    Add to Cart

Remember that shipping is included in the price of our pendulums for anywhere in the US.
International orders are $3 more for shipping.
If you prefer, call us toll free from the US or Canada to place an order at
1-877-DOWSING (369-7464).
From elsewhere, call 1-706-733-0204
Or email us by clicking here.