Dowsing Rods & Divining Rods
 Joey Korn's Signature Dowsing Rods
New Shipping Rates

Shipping rates have changed, especially for international shipping of small packages.  It is not practical to order a pair of dowsing rods for shipping outside the U.S. unless it is part of a larger order.

 
(The price above is incorrect.)
Portable L-Rods:
$36 per pair with pouch        
Add to Cart
With High-Quality Pouches in Two Colors     
We offer quantity discounts on dowsing rods.
You can save up to 40%.  You'll see discounts when you order.
Or call us toll-free within the US and Canada at
1-877-DOWSING (369-7464).
Dowsers.com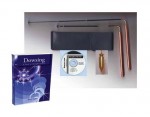 We also carry complete dowsing kits, which include my book, a CD about my work, a pendulum and a pair of Bob Slack L-rods.
You save $5 when you buy a kit.
Click here to learn more, or click on the image above.


Click here to return to the Home Page.
Or click on any of the buttons to the left to navigate through the site.